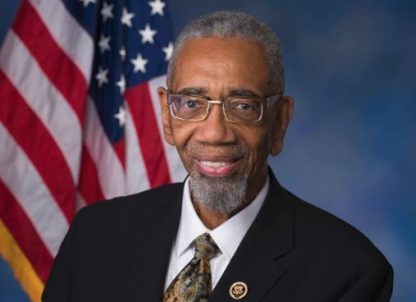 February 15, 2018
Rush Endorses Raoul's Candidacy for Illinois Attorney General
CHICAGO – Sen. Raoul announced the formal endorsement of Congressman Bobby Rush today.
"Kwame Raoul is the clear choice for our communities. We need an attorney general who not only understands the needs of those who seek justice but one that has the compassion and know-how to ensure it gets delivered," Rush said.
Rep. Rush has represented the people of Chicago and Illinois for over two decades as the Congressman for the 1st District of Illinois. He has a national reputation and lifetime legacy of advocating for minorities and low-income communities.
"Kwame has a track record of ensuring justice for our community. He's been a leader on voting rights, healthcare, economic justice and criminal justice reform," Rush added.
Kwame Raoul has followed Rush's leadership in striving to provide and protect quality affordable healthcare. Rush introduced the Trauma Relief Access for Urgent Medical Assistance Act in 2014, which increased funding for trauma research, established grants for expansion of emergency services nationwide and made new grants available to provide child focused trauma centers.
As Attorney General, Raoul has pledged to increase trauma resources for victims of violent crimes to help ensure full long-term recovery and break the cycle repeat and retaliatory violence in our communities.
Rush also introduced laws and demanded that government contracting include minority and women owned businesses throughout his career. As Chair of the Special Committee on State and Pension Fund Investments, Raoul has made sure minority owned businesses are included in these institutional investments.
"It is an honor to carry the mantle of Bobby Rush's confidence," Raoul said. "I aspire as Attorney General to ensure that the needs of the most vulnerable communities are of the utmost concern and to protect the people of Illinois, especially those that have been traditionally disenfranchise or abandoned by the system."
###