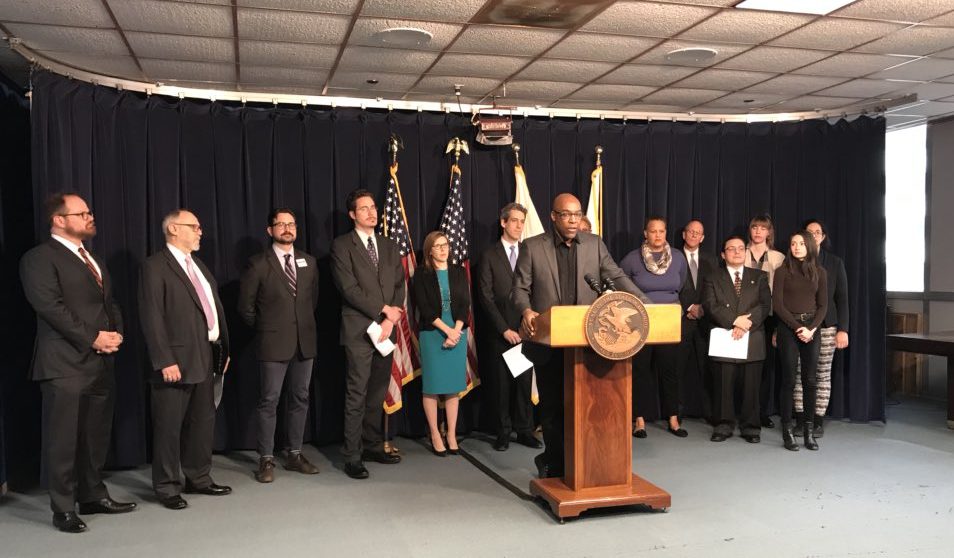 On Thursday morning, State Senator Kwame Raoul joined a group of advocates and lawmakers in support of a new bill in Illinois that would preserve some of the internet protections recently removed by the Trump administration.
The FCC earlier this year executed an order repealing net neutrality,  freeing service providers, known as ISPs, to slow down internet, prioritize websites and services that pay to be faster, and block content they do not want their customers to see. These changes are scheduled to take effect on April 23.
In response, Illinois Representative Ann Williams introduced the Broadband Procurement and Disclosure Act (HB4819). The legislation would require ISPs in Illinois to honor net neutrality for all citizens of the state, and to be transparent about any billing practices that violate net neutrality principles.
Rep. Williams explained that consumers would be protected by requiring any internet providers doing business with the state to either commit to following net neutrality rules, as many have publicly committed to, or disclose to consumers any content blocking, prioritization or throttling.
Raoul was joined by fellow State Senator Daniel Biss at the press conference. Both spoke in favor of the bill and committed to co-sponsor the legislation once it passed out of the House.
"The capacity to freely exchange information on the internet is a fundamental part of our society," said Raoul. "To favor those with better resources or allow corporations to determine what content they will provide to consumers flies in the face of the foundations of our democracy."
A group of 21 attorneys general are currently appealing the rule change by the FCC to end net neutrality, alleging that the decision violates the Administrative Procedure Act, which governs the process for federal agency rulemaking, and claiming that it violates the Constitution and the Communications Act of 1934. Raoul, the Democratic nominee for Attorney General of Illinois, said he supports current Attorney General Lisa Madigan's participation in the appeal. Madigan announced in November that she would not seek reelection to the post that she has held since 2003.
Rep. Jaime Andrade, a co-sponsor of HB4819 in the Illinois House, said the group would push for action on the measure when the General Assembly returns next week.
Among other supporters, the press conference featured leaders from the ACLU of Illinois, Chi Hack Night, Illinois PIRG, the Citizens Utility Board  and local college students.