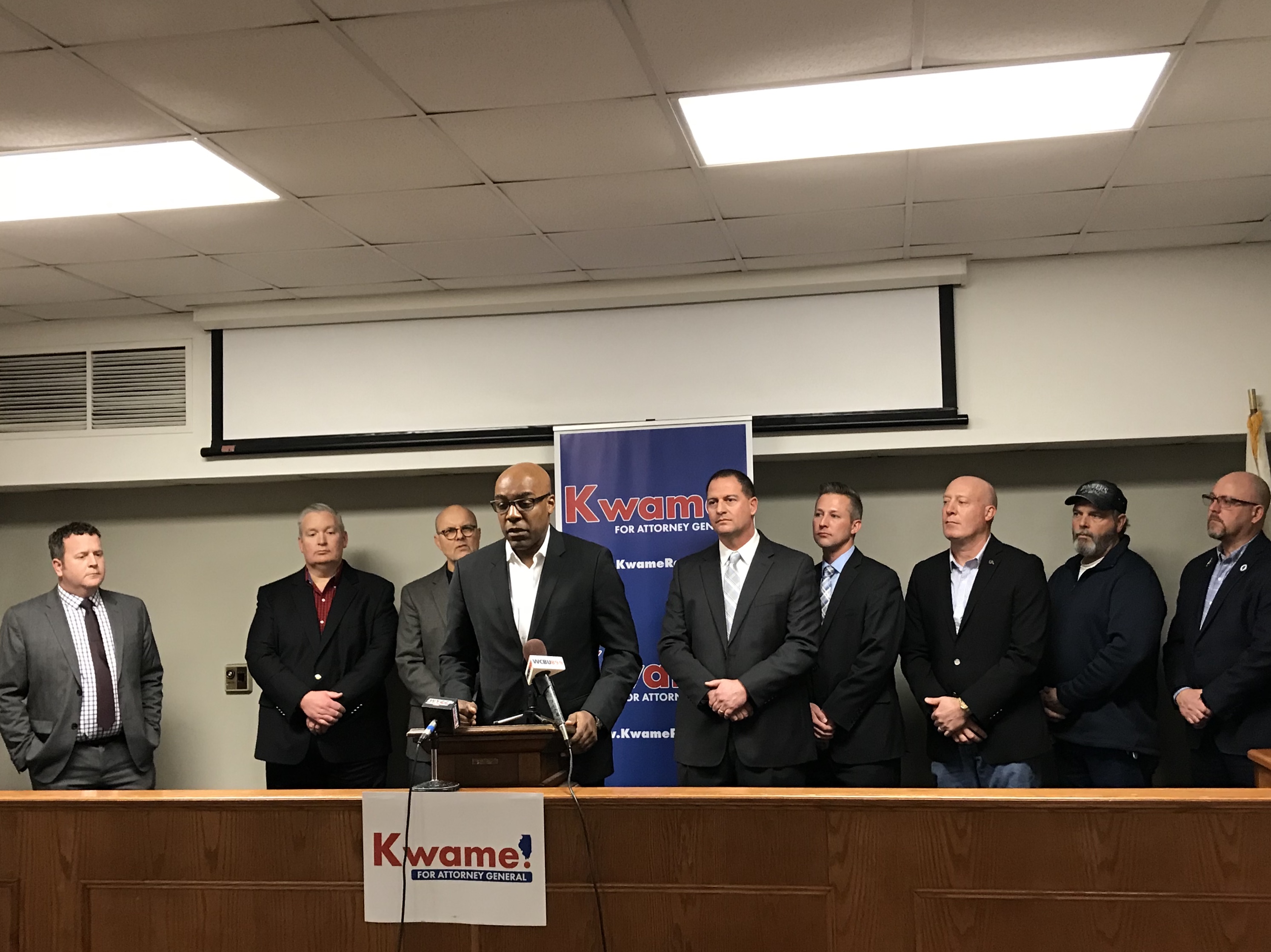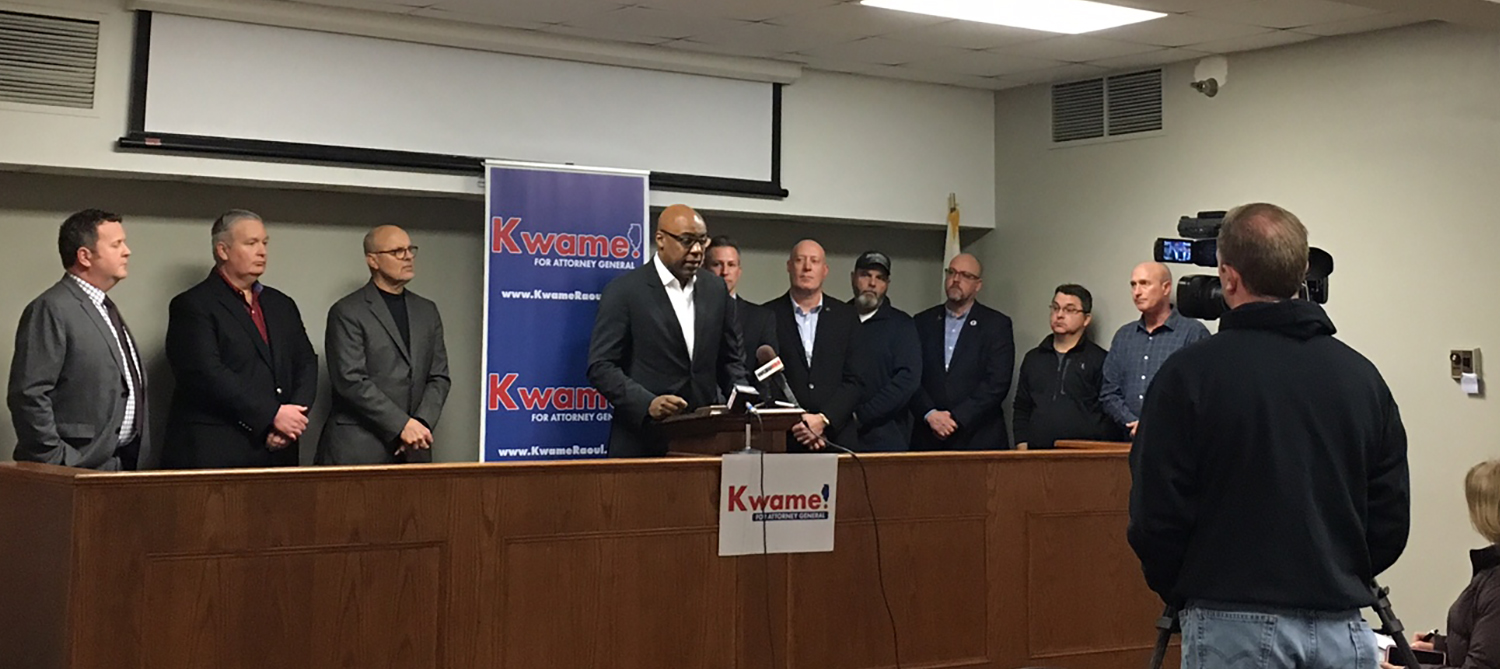 State Sen. Kwame Raoul, D-Chicago, speaking at the Peoria Labor Temple on a recent campaign stop during his race for Illinois attorney general.
BY CLARE HOWARD
On a recent campaign stop at the Peoria Labor Temple, Illinois Sen. Kwame Raoul, a candidate in the crowded race for Illinois Attorney General, said an anti-worker agenda prevails in the governor's office and much of the state Legislature.
Raoul, D-Chicago, was flanked by labor union leaders and Sen. Dave Koehler who announced his support for Raoul in the race for attorney general, filling the spot after Lisa Madigan leaves the post. Koehler said he and others in the Legislature look to Raoul for sound analysis on labor issues.
Raoul introduced a bill to establish a "Workplace Protection Unit" in the attorney general's office that would pursue businesses that break labor law.
Matt Bartolo, with Laborers Local 165, said his union took up the cause of about 20 nonunion workers on a recent hotel renovation project in Peoria who were victims of wage theft. In some cases, the workers had not been paid for months.
Raoul said the new unit would focus on prevailing minimum wage, employment classification and wage theft. He characterized opposition to the new unit as support of wage theft.
"We have a governor and legislators who turn a blind eye to this," he said. "In some cases, these (labor law) violations are slow walked (through the review process). We need to make sure the attorney general can go after these rogue contractors."
Raoul said Gov. Bruce Rauner campaigned on undermining worker rights, and his "Turnaround Agenda" was anti-labor.
In response to a question about a ban on military assault weapons, Raoul expressed support for a ban but said it must be in conjunction with more, tighter gun regulations. Most of the crime in Chicago and other cities is committed with handguns, he said. He also proposes more assistance for trauma recovery services, a ban on bump stocks and more mental health behavioral interventions.
He was once a juvenile prosecutor, and saw firsthand the need for help in dealing with mental disability.
"I am the only candidate talking about the attorney general's ability to direct resources" to targeted areas where the need is most critical, he said.
Raoul has a strong record on environmental protection. He is proposing legislation that would assist people living near sites that pollute air and water quality, such as the silica sand mining operations in LaSalle County.
See Community Word, January 2018, "Silica sand – in the air, water, lungs and frac drills: http://thecommunityword.com/online/blog/2018/01/01/silica-sand-in-the-air-water-lungs-and-frac-drills/
In a report on WTTW Chicago Tonight, Raoul said his proposed bill would amend the state's Administrative Review Law to ensure residents are able to challenge permits issued by state regulators, including the Department of Natural Resources, Department of Agriculture and the Illinois Pollution Control Board. His legislation would give residents legal standing to sue over environmental concerns such as air pollution, contaminated groundwater, offensive odors and more.
Currently, only "affected parties" have standing in such cases meaning that permits can be challenged only by the agencies that issue them or the companies that receive them.
The report on WTTW Chicago Tonight quoted Raoul at an environmental forum for attorney general candidates hosted by the Sierra Club saying, "Polluters unfortunately sometimes take advantage of the most vulnerable, and those individuals don't have a right to action to hold those polluters accountable."
In response to a question at the Peoria press conference, Raoul said he is a strong supporter of the Freedom of Information Act and as attorney general would enforce it rigorously.