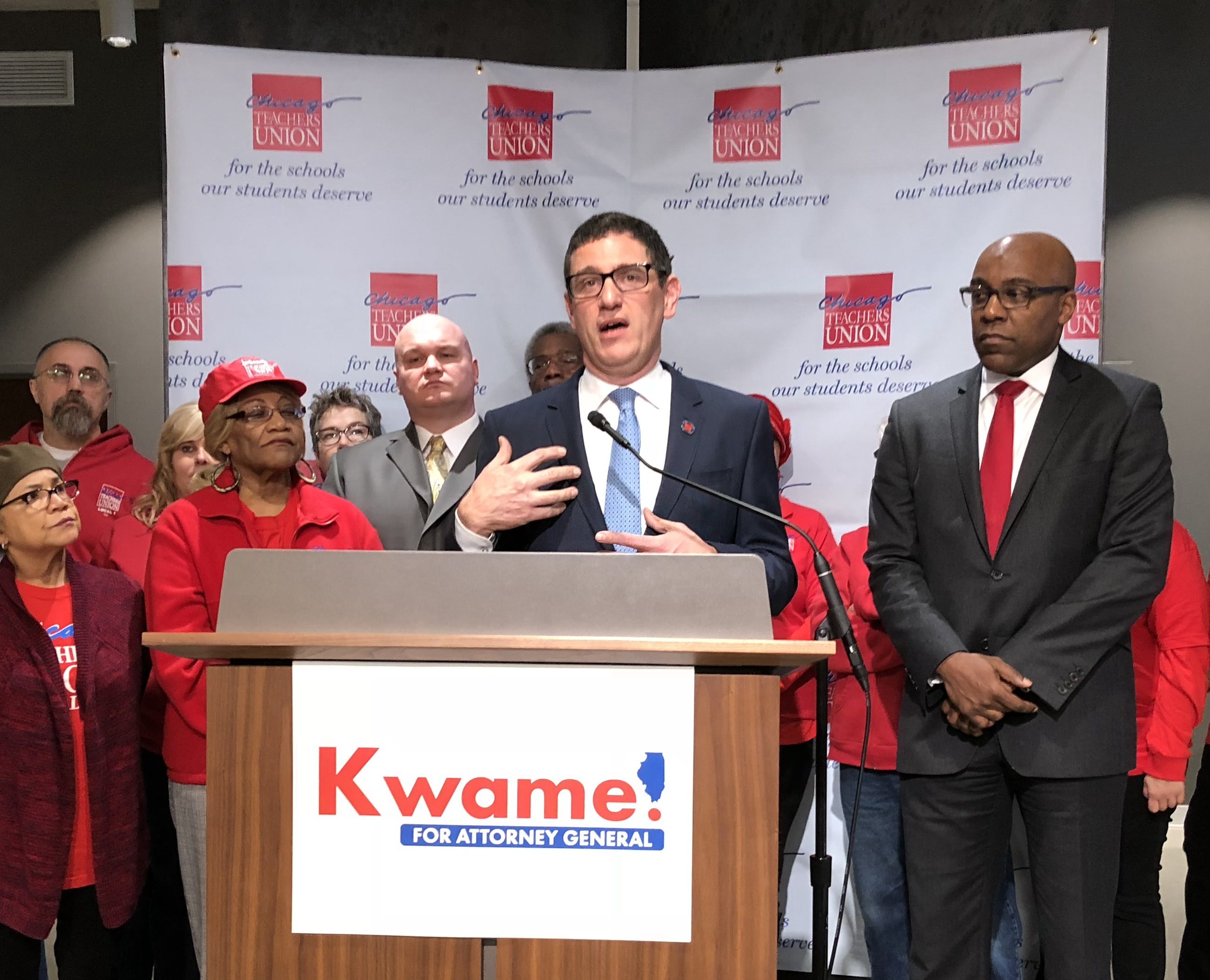 Crain's Chicago Business
As the March primary elections begin to come into sharper focus, a number of significant endorsements rolled out today.
The beneficiaries: Kwame Raoul, part of a large field running for state attorney general; Democratic gubernatorial hopeful Daniel Biss; and 4th District congressional candidate "Chuy" Garcia.
Raoul, who has backing from much of the regular party apparatus and organized labor, today added the Chicago Teachers Union to his list. While it's rare to see the progressive union and party bosses in the same bed, these things do happen.
"(State) Sen. Raoul has been a rock-solid advocate of an elected representative school board for the city of Chicago and for collective-bargaining rights for workers, and he has consistently raised concerns about school closings as an attack on the viability of disenfranchised neighborhoods and the basic rights of students and parents," CTU Vice President Jesse Sharkey said in a statement. "We can count on Kwame to put the people's business and the people's needs front and center as attorney general, something we simply could not expect from some of the other candidates."
Biss' new backing came from two other groups on the Democratic left: National Nurses United, known for its early backing of Sen. Bernie Sanders for president last year, and Reclaim Chicago, a grass-roots group affiliated with the nurses.
"Daniel is not a billionaire. He worries about balancing the cost of living with saving for his children's college education, and he understands that the necessities of life are out of reach for far too many families," the group said in a statement. "Daniel is already leading the fight to close corporate tax loopholes and make the very rich pay their fair share so that Illinois can afford to make these investments."
Garcia, running to succeed the retiring Luis Gutierrez, won the nod from the Congressional Progressive Caucus, which claims membership by 75 House members. "Chuy Garcia has been a progressive champion throughout his entire life," CPC co-chair Mark Pocan, D-Wis., said in a statement. "From taking on the Chicago machine to traveling the country with Bernie Sanders building a national progressive movement, working families in this country have a true advocate and champion in 'Chuy' Garcia."